Trauma, Turmoil, Testimony and Truth - A Memoir by Diana Floyd
Welcome to Diana Floyd's

Online Shop


Trauma, Turmoil, Testimony and Truth - A Memoir

A Non-Fiction book exposing the unthinkable.
Diana Floyd's autobiography reveals top traumatic events from her childhood - death, sexual abuse, divorce, addiction, serious illnesses, dysfunctional relationships, family drama's and much more!
27 Years Later - My journey with child abuse, a psychotic mother, death and suicide, child loss and a magnitude of misdiagnosed disorders leaving doctors flabbergasted!
A lot of humour has been carried through the devastating events that I have laid bare, just to make it that much more exciting! Some of the stories sound so unreal that you will literally start laughing in total disbelief.
Available in PDF /eBook and Full Color Printed Copies - BUY NOW >>
Child Abuse, Molestation, Pedophile, Freedom From Abuse, Sexual Assault, Sexual Predator, Memoir, PNES, Psychogenic Non-Epileptic Seizures, Diana Floyd, Trauma, Turmoil, Testimony and Truth, Book for sale, Bestseller, Non-fiction book, Non-Fiction Writing, Fibromyalgia, Scoliosis, Depression Awareness, Bipolar Awareness

𝐖𝐚𝐭𝐜𝐡 𝐭𝐡𝐞 𝐥𝐚𝐭𝐞𝐬𝐭 𝐯𝐢𝐝𝐞𝐨𝐬, 𝐫𝐞𝐚𝐝 𝐦𝐲 𝐛𝐥𝐨𝐠 𝐩𝐨𝐬𝐭𝐬 𝐚𝐧𝐝 𝐬𝐞𝐜𝐮𝐫𝐞𝐥𝐲 𝐩𝐥𝐚𝐜𝐞 𝐚𝐧𝐝 𝐩𝐚𝐲 𝐟𝐨𝐫 𝐲𝐨𝐮𝐫 𝐨𝐫𝐝𝐞𝐫 𝐯𝐢𝐚 𝐚𝐧𝐲 𝐨𝐟 𝐭𝐡𝐞𝐬𝐞 𝐜𝐡𝐚𝐧𝐧𝐞𝐥𝐬:
YOCO Debit / Credit Card, PayFast and Instant EFT, PayPal and normal EFT.
𝐒𝐡𝐢𝐩𝐩𝐢𝐧𝐠 𝐨𝐩𝐭𝐢𝐨𝐧𝐬 𝐟𝐨𝐫 𝐒𝐨𝐮𝐭𝐡 𝐀𝐟𝐫𝐢𝐜𝐚 𝐢𝐧𝐜𝐥𝐮𝐝𝐞:
PEP Paxi Counter to Counter, Aramex Store to Door, The Courier Guy Door to Door and 𝐅𝐑𝐄𝐄 𝐒𝐇𝐈𝐏𝐏𝐈𝐍𝐆 𝐖𝐎𝐑𝐋𝐃𝐖𝐈𝐃𝐄 𝐟𝐨𝐫 𝐚𝐧𝐲 𝐞𝐁𝐨𝐨𝐤 𝐨𝐫𝐝𝐞𝐫𝐬.

Diana Floyd's Webpage for Direct Orders with Secure Payment Options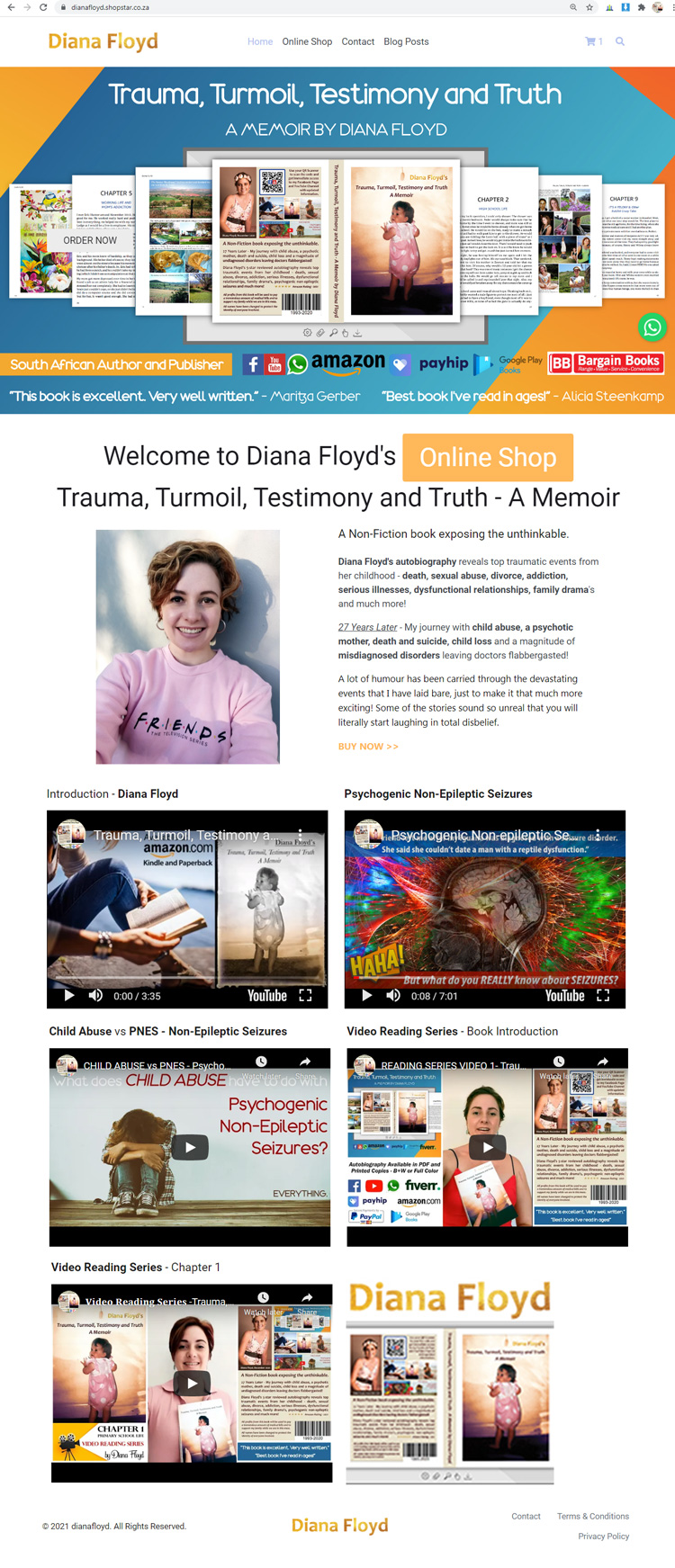 Follow us on Facebook
Youtube